MOE SCHOLARSHIP PROGRAM

2022 EXHIBITION IDENTITY
---
ROLE: Lead Designer
Aims to build MOE Scholarship Program 2022 exhibition identities, from poster design, motion design, invitation cards, to social media template design.
一直以來,菁培所代表的語彙是具國際視野的設計。2022 菁培返國學員成果展持續空降臺北華山園區之際,我們以設計力帶來更多想像的可能性出發,讓這個設計場域由五個組別各自盤據:數位動畫、視覺傳達設計、產品設計、建築與景觀設計、時尚設計。每組學員在經過國際思維的洗禮後,展示各自的設計魅力,同時讓你看見 A+B、C+E、B+D 等各種設計組合、不同設計領域間彼此對話的可能性。主視覺擷取並致敬熟悉的設計元素,用代表菁培五組的 ICON 貫穿 ─ 動畫彈跳球、時尚剪刀花、視傳大眼睛、建築古根漢、產品建模型,往來的飛機襯著動態圖像的粉彩雲霧,代表學員們帶回源源不絕注入的國際觀,而迸發出這一切的臺灣島,正迎接著五大領域的新世代設計師,共同撐起這個島嶼的設計力。來吧!看展無需任何入門門檻,因為設計是如此貼近生活,我們不妨想像,一日之初,你穿起個人風格的衣服、戴上印著你喜愛插畫的口罩、手機滑著體驗感極佳的APP、騎著超人體工學電動車、看了一場炫彩特效的動畫片、讚嘆街邊與環境共生的建築之美,這些結晶的背後,是設計串聯多方對話交集而成,如同這個展以不同領域的排列方式組合,你總可以有更多的想像,形塑無限可能的樣貌。
For a long time, MOE Scholarship Program represents designing with an international perspective. As the 2022 Annual Exhibition of MOE SPOSAD Taiwan continues to present at Huashan 1914 Creative Park in Taipei, we started with the idea of "using design to bring more possibility of imagination." And divided the field into five categories: Digital Animation, Visual Communication Design, Product Design, Architecture & Landscape Design, and Fashion Design.
After experiencing their life studying abroad for a year, the students are ready to share their designs with you. They will show you the possibility of starting communication between various design fields.
The visual identity design captures and pays tribute to the design elements that we see in daily life. The icons represent the five groups of the MOE Scholarship Program. Animated bouncing balls, scissors & flowers for fashion design, big eyes for Visual design, Guggenheim Museum of architecture field, and modeling of the product design field. The flying paper airplanes show how the students continue to bring new ideas back to the island. Taiwan is ready to meet with the designers of a new generation in the five fields and jointly support the design power of this island.
EXPLORING DESIGN WITH POSSIBILITIES & MORE!
︎ Official Website
---
這是集結了五大領域 27 位新世代設計師與動畫師的聯展 ─ 數位動畫、視覺傳達設計、時尚設計、產品設計、建築與景觀設計 ─ 過去一年,他們以臺灣學生之姿,用設計本事走進 9 國共 22 所頂尖設計學府;此刻,他們將一年的全球足跡濃縮成五天的展覽,與你分享年輕世代的設計思維及作品,邀請你以跨領域、跨文化的角度,觀賞全球設計潮。

This exhibition brings 27 new-generation designers and animators from five fields together. In the past year, the students went to 22 top design schools in 9 countries with their design skills. Now, they have condensed their one-year global footprint into a five-day exhibition, sharing the design thinking and works of the younger generation with you. We invite you to come and see the global design trend from a cross-disciplinary and cross-cultural perspective.

2022 教育部藝術與設計菁英海外培訓計畫
Annual Exhibition of MOE SPOSAD Taiwan
地點 Location|臺北華山1914文創園區中4B館 Huashan 1914 Creative Park
展期 Date & Time|11/9 (Wed.) – 11/13 (Sun.), 10:00 – 18:00
價格 Price|免購票,免費參觀 Free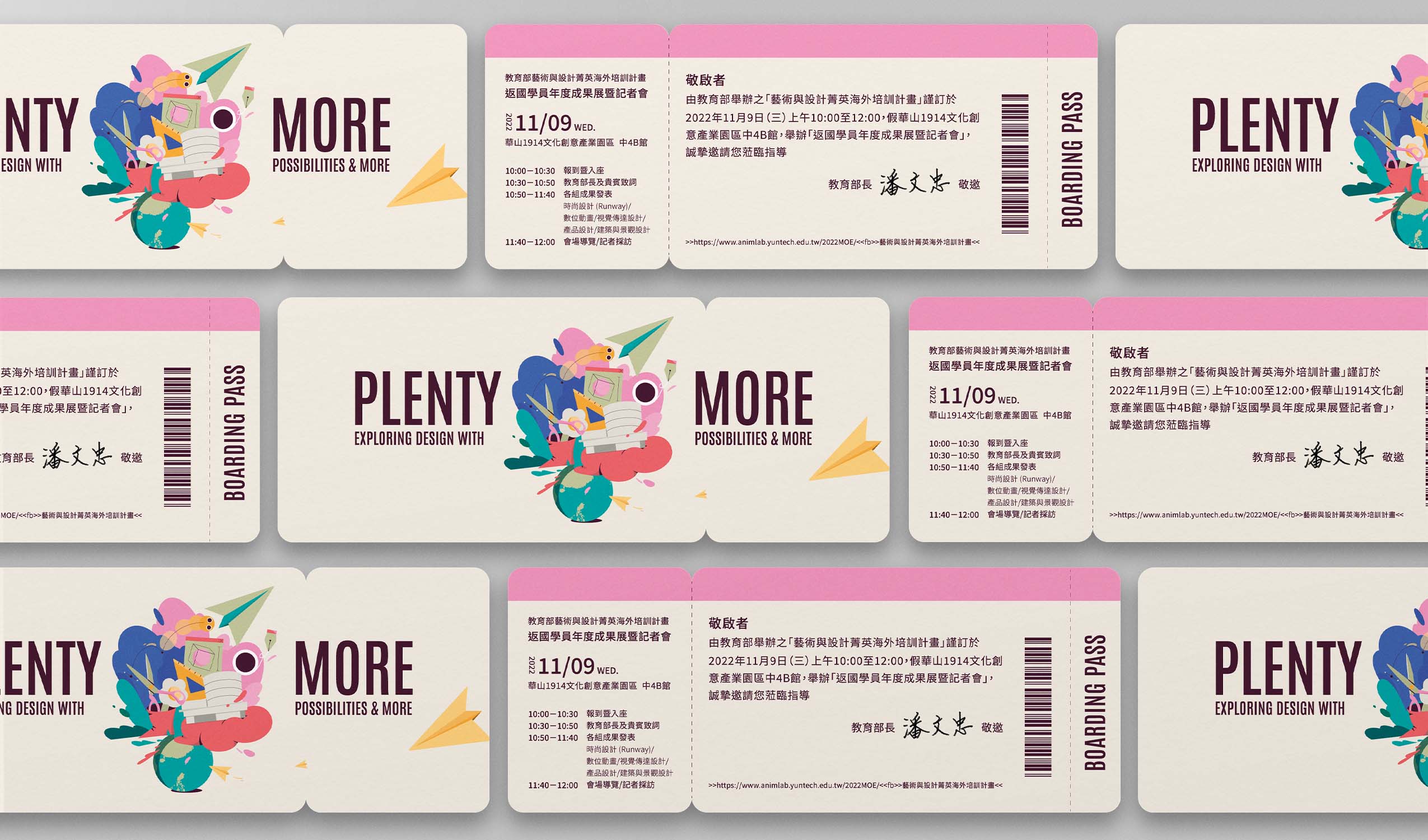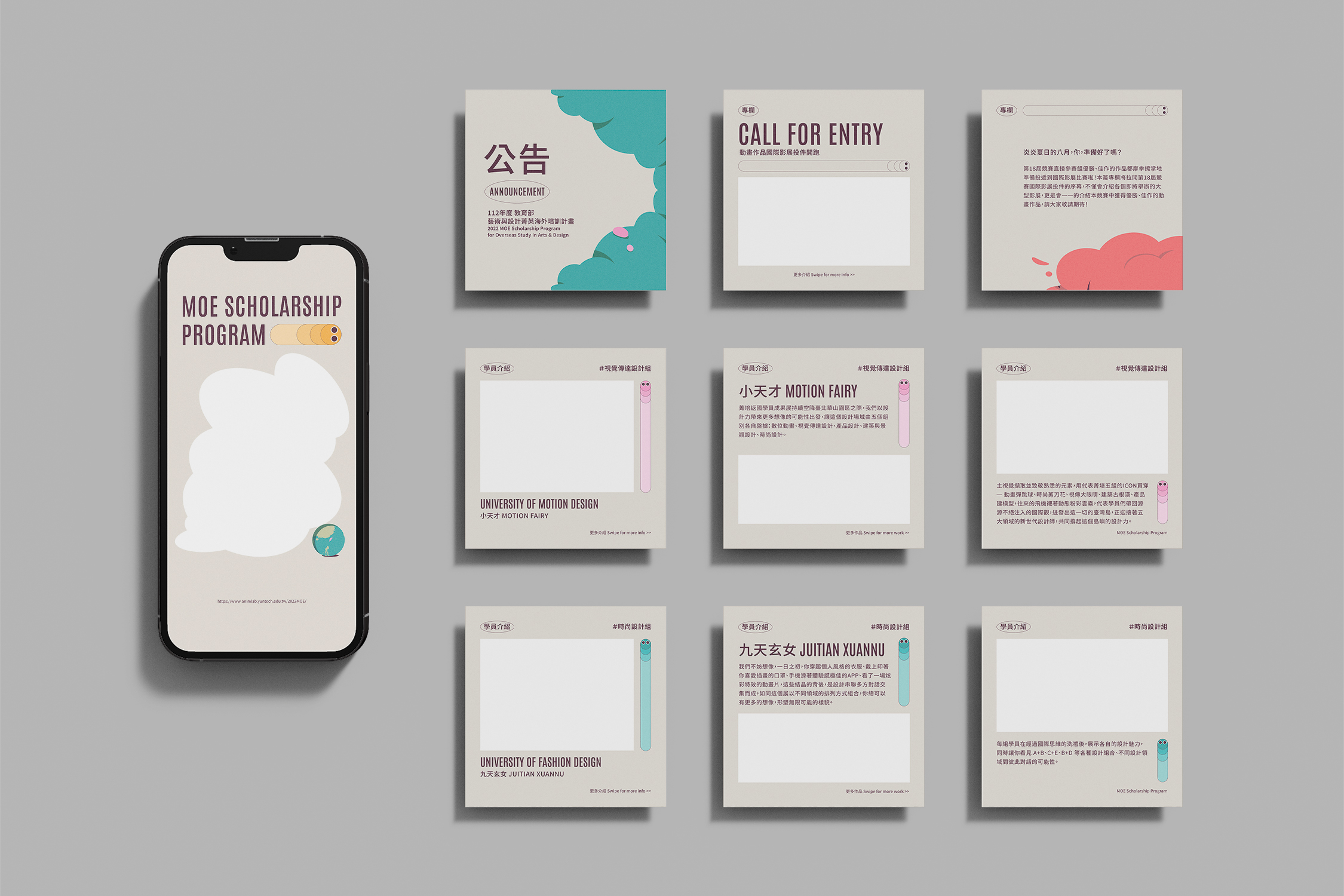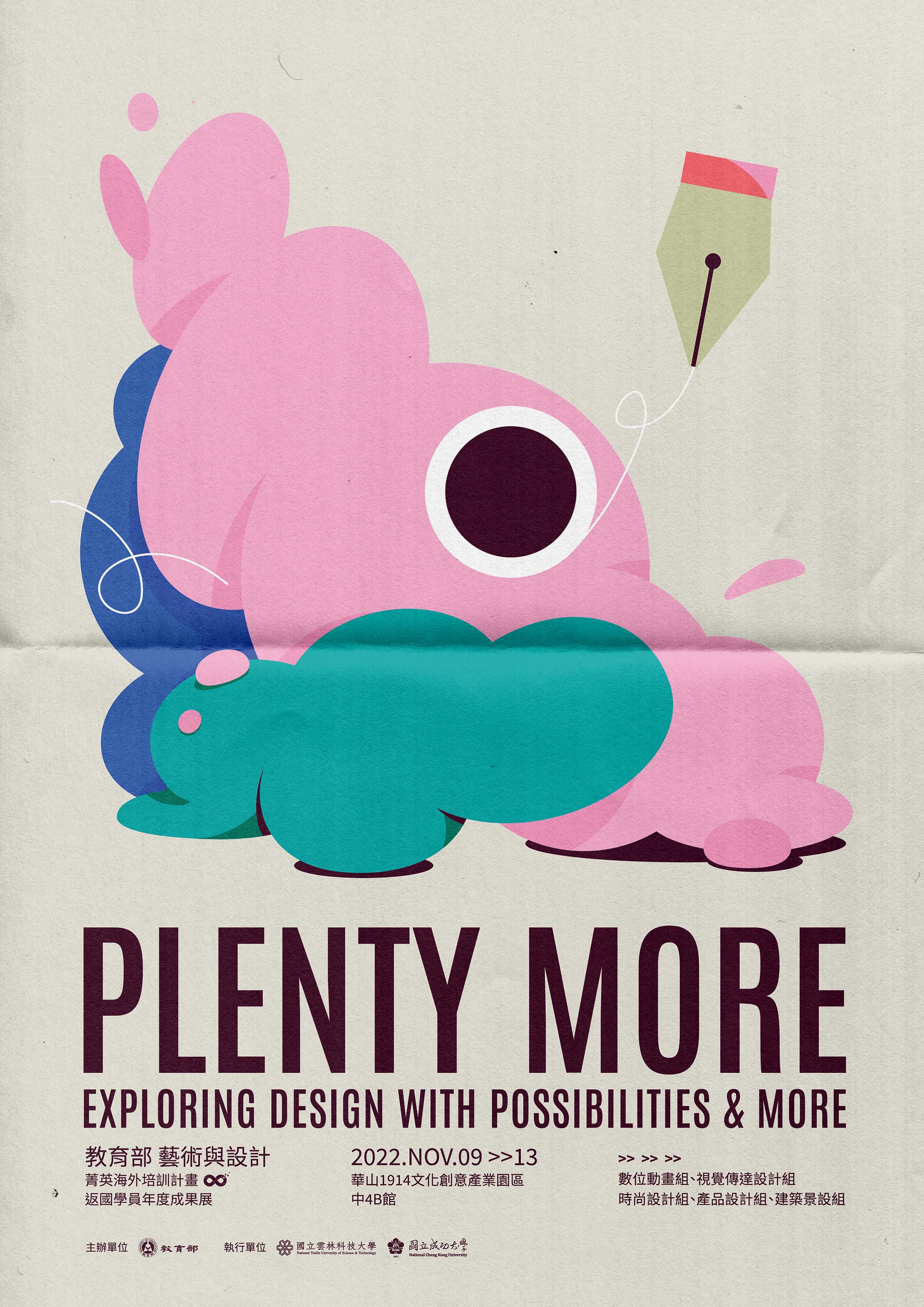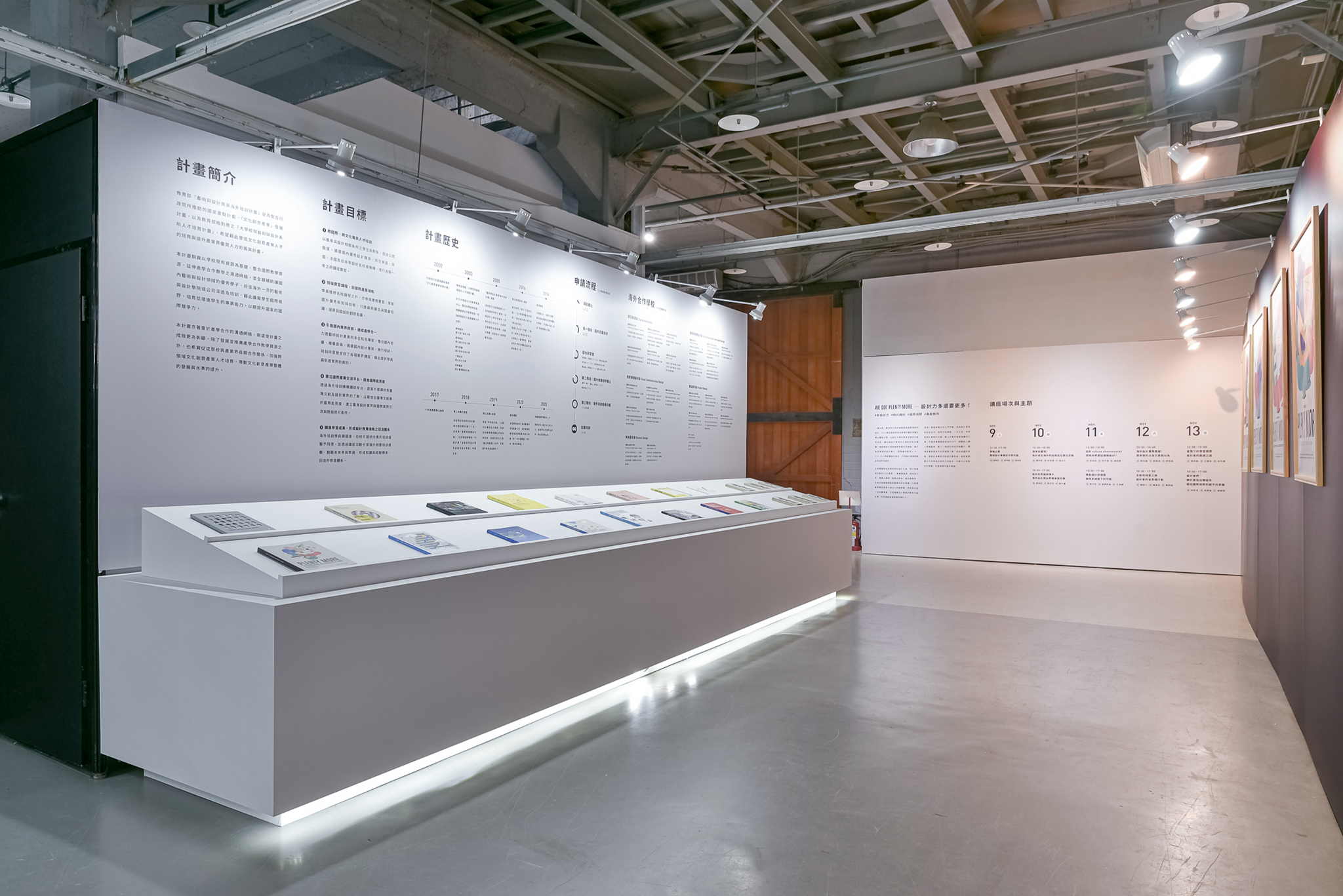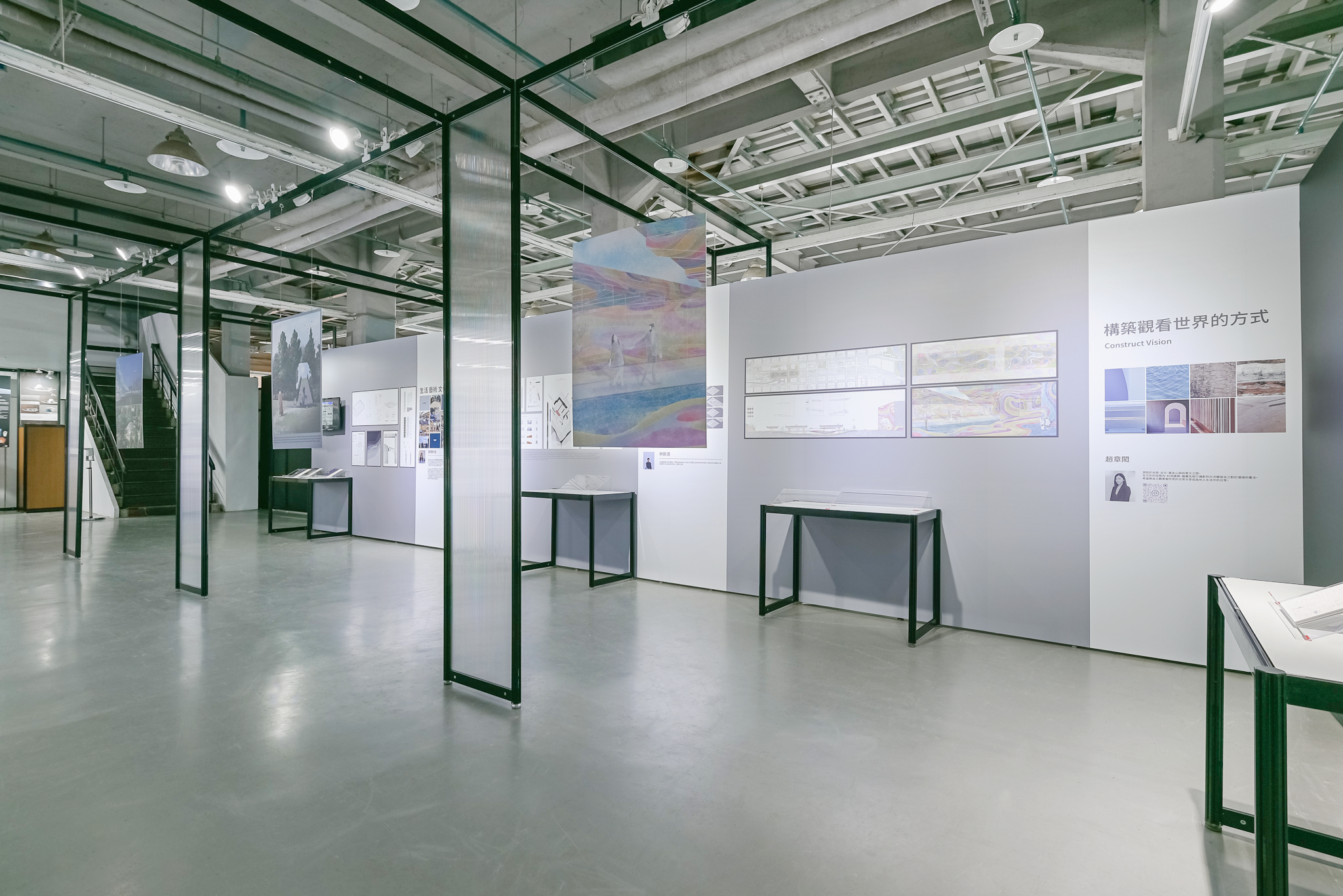 ---
EARLY STYLE EXPLORATION
主辦單
執行單位


佈展單位、開幕影片
主視覺設計
主視覺動態
社群媒體應用模板設計/動態
展場入口資訊影片模板設/動態
邀請卡設計
邀請卡印刷
會場摺頁設計
摺頁印刷
會場計畫簡介區視覺規劃
宣傳影片
倒數影片動態
入口指引、講座及記者會圖檔
倒數影片視覺

Organizer
Executive Organizer

Curator
Exhibition Construction、Opening Video
Exhibition Identity DesignMotion Design
Invitation Card Design
Social Media Template Design & Animation
Entrance Billboard Template Design & Animation
Invitation Card Printing
Booklet Design
Booklet printing
Program Introduction Section Graphic Design
Promotional Video
Count down animation
Entrance guide, Presentation slides
Count down animation design


教育部
國立雲林科技大學
國立成功大學
國立雲林科技大學
沃設計
蘇暐絜
蘇暐絜
蘇暐絜
蘇暐絜
蘇暐絜
畫屏廣告設計有限公司
蕭睿妤
黎明有限公司
蕭睿妤
王馨慧
王馨慧
陳羿文
陳羿文

Ministry of Education, Taiwan
National Yunlin University of Science and Technology,
National Cheng Kung University
National Yunlin University of Science and Technology
Woo Design
Taylor Su
Taylor Su
Taylor Su
Taylor Su
Hua Ping Advertising Co., Ltd.
Nayu Hsiao
Sunrise Color Printing Co., Ltd.
Nayu Hsiao
Cindy Wang
Cindy Wang
Yi Wen Chen

Yi Wen Chen